$20 Off Cedar Hand Drums: Celebrating 20 Years as Green Company Building Authentic Native American Drums
NATIVE AMERICAN POWWOW DRUMS
ALL BUILT FROM RECYCLED CEDAR: NO NEW TREES DIED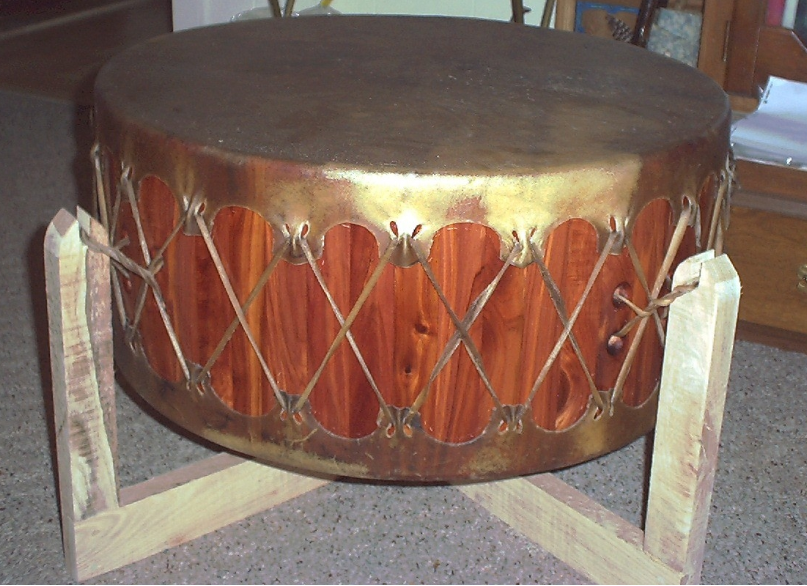 All Native American Powwow Drums Built from Recycled Red Cedar.
Tough Bull Hides from EPA- Approved Tannery
FREE Powwow Drum Stand
& Drum Stick
To see pictures of the Drum Building Process, please return to our Home Page

All Powwow Drums are Custom Built for You. Please Allow 2-4 weeks. We will send continuous emails on the progress of Your Drum.
All drums include a FREE Collapsible Stand ($200.00 value ) and FREE Drum Stick
ALL POWWOW DRUMS ARE 14" TALL
YOU CHOOSE THE DIAMETER

20" diameter $480.00(sits 2-6 people)
24" diameter $580.00 (sits 4-6 people)
26" diameter: $680.00 (sits 4-7 people)
28" diameter $800.00 (sits 4-8 people)
30" diameter $900.00 (sits 4-10 people)
32" diameter $1,100.00 (sits 4-10 people)
34" diameter $1,300.00 (sits 4-12 people)
36" diameter $1,500.00 (sits 4 -14 people)

Extra Large Sizes
40' Diameter: $2,000.00
44" Diameter: $2,500.00

Please note: All drums larger than 36" must be shipped FREIGHT.
This increases the cost of shipping to $600.00 up to $1000.00
depending upon gas prices and location to which drum is shipped.

Keith Little Badger will build a custom drum of any size to fit your unique needs.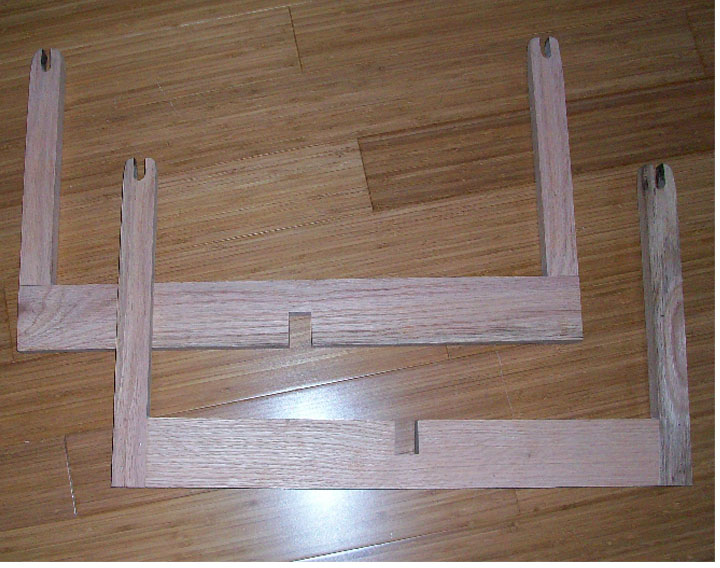 The Drum People include a Free Collapsible Drum Stand with every Native American Powwow Drum. Be sure to factor the cost of a drum stand into the price of any powwow drum.
Please keep on reading to see how Keith Little Badger builds Your Native American Powwow Drum and also what our customer had to say about the drums they purchased from The Drum People.
KEITH BUILDING YOUR NATIVE AMERICAN POWWOW DRUM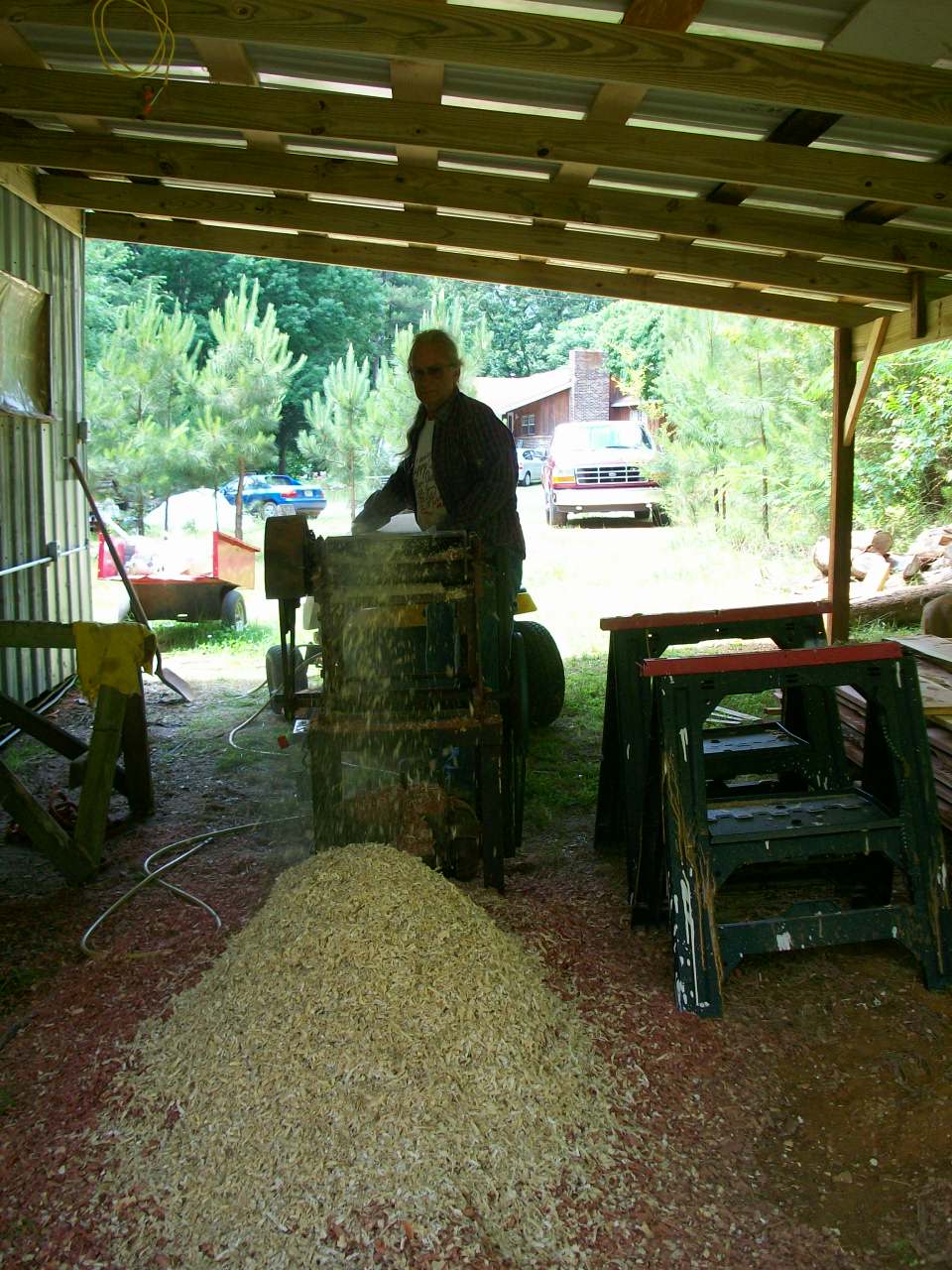 Each board is run through a planer to make board Uniform  uniform front and back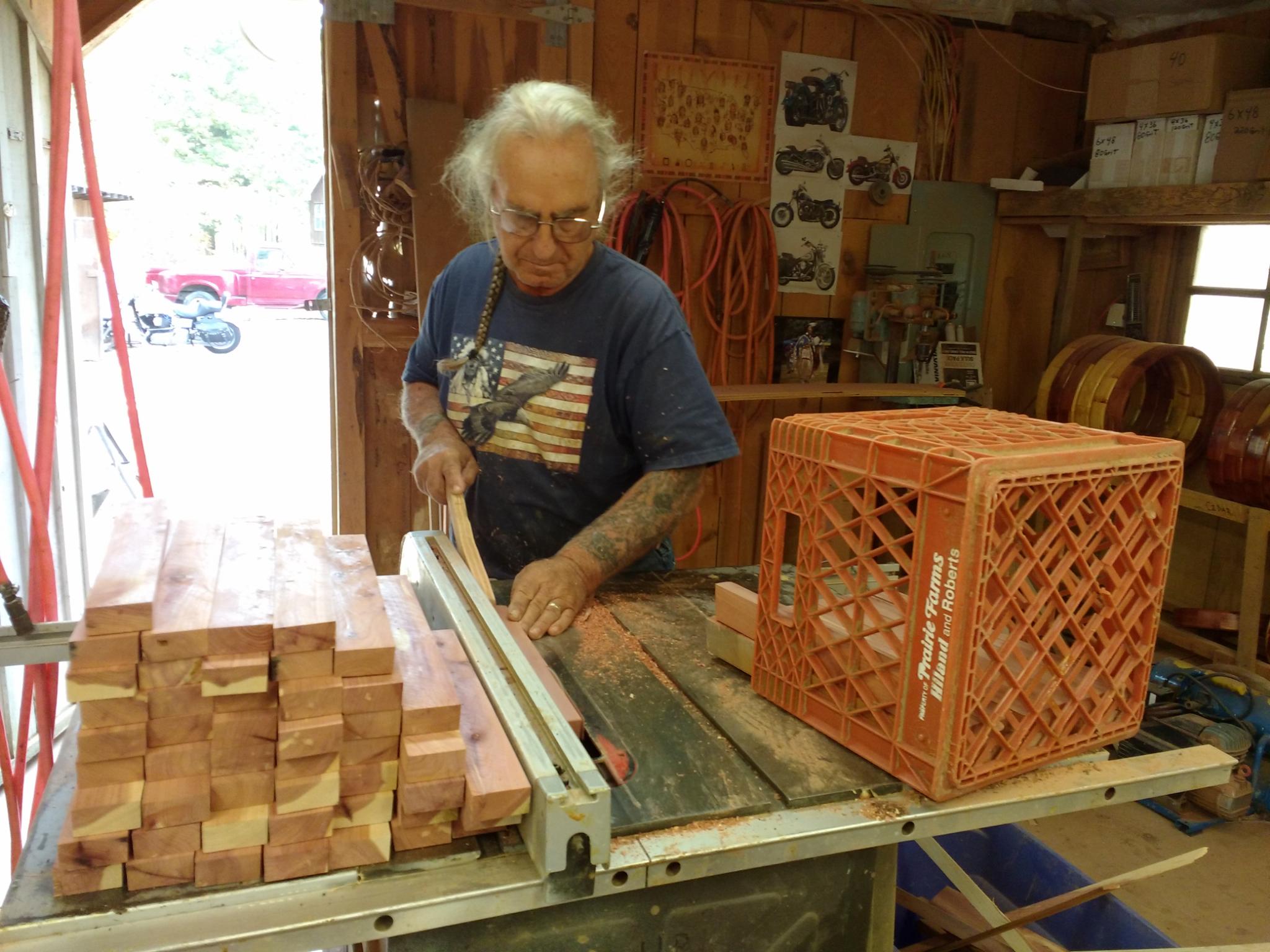 Each Board runs through table saw 6 times: 2 for width, 2 for length and 2 to put the correct angle on each piece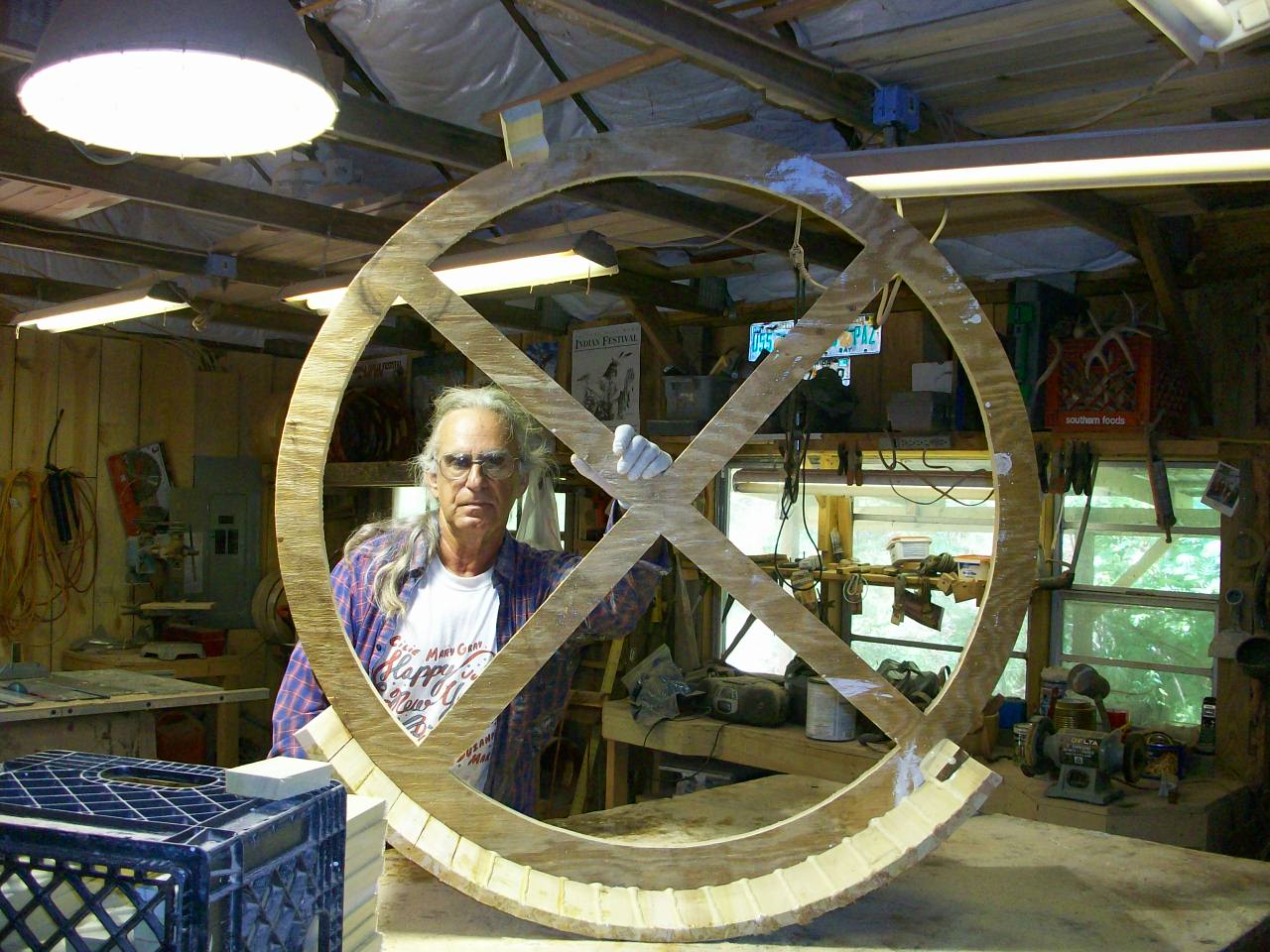 Keith builds a Medicine Wheel in every powwow drum to support all of the staves.

Keith sands the powwow drum to a smooth finish using 3-part process. 40 grit, 80 grit, and 120 grit sandpaper.. This removes the angles to make the drum into a Sacred Circle.
WHO PLAYS LITTLE BADGER POWWOW DRUMS?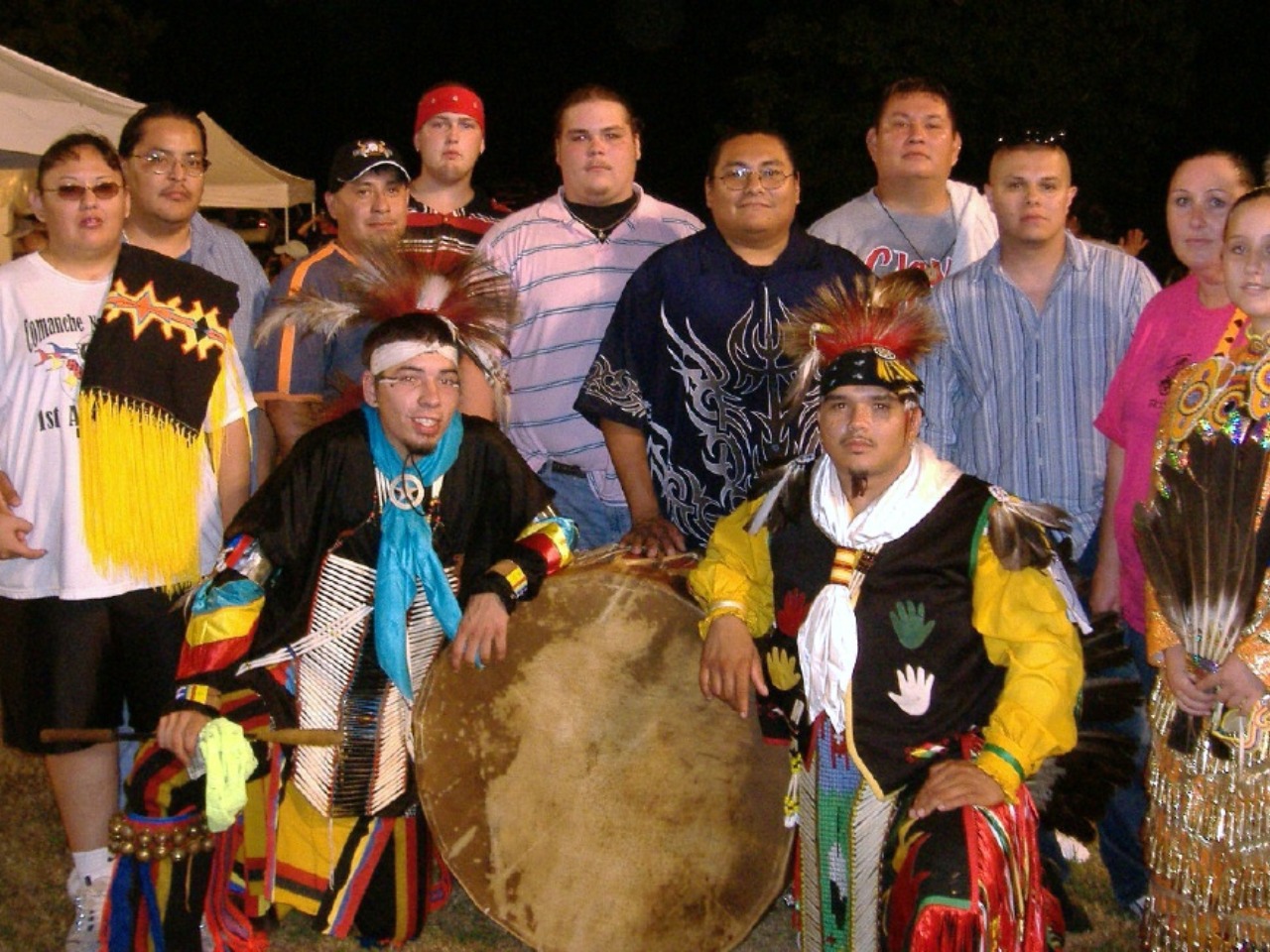 Bad Water Singers have 3 Little Badger Powwow Drums and Win Competitions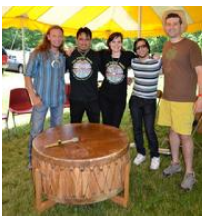 Musical Recording Groups
The Flying Seeds
Oklahoma Public School Pre-K. Elders taught songs, kids played at their Pre-K powwow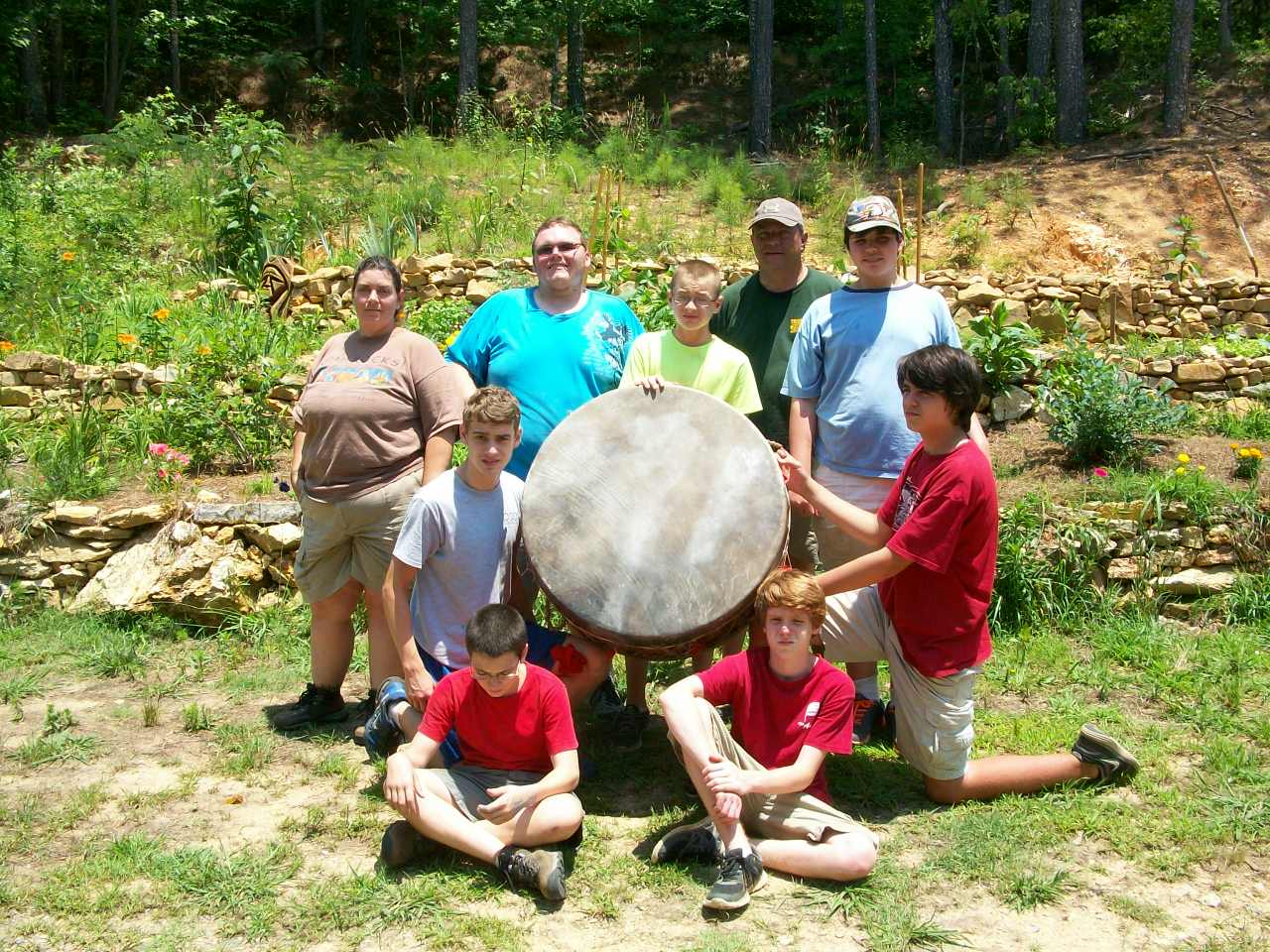 Boy Scouts set up tents in our yard one weekend. Keith helped them build their own Powwow drum.
Windy Old Chief with Father & Son, 3 Generation play at the Ky-ia Powwow in Montana
Anna Wells, Cherokee, says: "Women all over the World are coming to the Drum."
HERE'S WHAT OUR CUSTOMERS SAY ABOUT THEIR POWWOW DRUMS
GRANDFATHER DRUM TO MICHIGAN
I am part of a circle of native and non native people who have a collective vision to start a SOBER community drum. We had thought through the teachings that we have, that we would need to make that Grandfather ourselves. We found 'The Drum People' online in our search for materials. Although we knew that Keith and Cheryl do not sell parts, I decided to call them and see what they were all about. After talking with the both of them at length, I was assured that they are walking a good path and their intent is to help others (Some things are greater than money).
I talked with our group and we collectively agreed to have them make our sacred drum. Mishomis (Grandfather) arrived today.We are absolutely speechless !! I am writing this to publicly thank Kieth and Cheryl for enriching our lives.But also to tell everyone, native and non native,that if you are looking for a drum that is extremely beautiful and also one that you can feel the prayers and love that went into it while it was being made , CALL THEM !! You will not be disappointed. Chi Miigwetch (Great thanks) from the Anishinabe of Northern Michigan Greg Antoine
KEEPS ITS VOICE IN HUMIDITY!
I got my 26" Pow Wow Drum. I haven`t been able to think of the word that best describe how I feel so I'm just gonna say what comes to my heart. My Drum is absolutely above and beyond my expectations. I Love It . When I say it`s the best I've ever seen or heard, that`s the Understatement of the Year. I'm Native American and been to many Pow Wows and never have I seen a Drum So Beautiful and well built. Plus the way it sings to me is so harmonious its mind-blowing. I have several hand Drums and its been quit humid here lately, (which can affect a Drums sound). Little Badger`s Drum is the only Drum that has not been affected by the humid air. All of my other Drums have failed and 1 has become so loose I can`t even play it. I tell you that when you reach The Drum People's web site your search for shopping around has come to an end. There is no need to search any further. For you have found the Right People to build you a Fantastic Drum. Little Badger prays over the Drum and that in itself is Special to me.They take Great care of you also.( Very kind and friendly). So when I say you can TRUST these people to build you a Drum or Drum Bag or Paint your Drum. I stake my LIFE on it. I'm so pleased that I`m buying another one next week. No need to worry about their quality. It's out of this world. Little Badger& Cheryl are real down to earth people. They care about their crafts and take great care of you,with their Great Gift and Prices. I know that this is a bit long but I really couldn't say how good I feel with just a few words. With all this said buy from The Drum People, the Caring People. George Pinder (Little Red Hawk)

Dear Cheryl and Keith, THANK YOU ...........I bought the 20x14 powwow drum right before Christmas for my special needs son who has wanted one for so long and I had not been able to find one until I came upon your website !! HOW WONDERFUL it was on Christmas day to see the SMILE A MILE wide on his face as he drummed and sang (his own song) . The drum itself is Beautiful and will be in the front room for everyone to see. I will pass your name on in confidence THANK YOU for making my son Happy........Laurie

BEST CONSTRUCTION AND BUILT WITH LOVE
My powwow drum arrived today. I am thrilled, and grateful to have found Keith and Cheryl. I have seen many other drums on the market and never felt good about their construction or sound. My drum has a deep resonance that stirs the soul. Keith builds with love, using the best materials. I cannot express my gratitude enough. Blessings to both of you Michelle Nagel