$20 Off Cedar Hand Drums!!! Celebrating 20 Years as a Green Company Building Authentic Native American Drums
NATIVE AMERICAN HAND DRUMS
ALL BUILT FROM RECYCLED LUMBER: NO NEW TREES CUT
SIZES & PRICES

All Drums Come with a
FREE DRUM STICK
Red Cedar
14" - $145.00
16" - $175.00
18" - $200.00
King's Pine *
14" - $160.00

16" - $190.00
18" - $215.00
* Price Higher: Limited Supply of Lumber


Plains (Full Wrap) *


14" - $190.00
16" - $210.00
18" - $230.00
* Price Higher: Requires more rawhide
SIDE VIEW
King's Pine, Plains, Cedar
LACING
All edges, top and bottom, are rounded and sanded smooth to prevent any tearing of hide.
All lacing comes from the same rawhide which allows the head and lacing to expand and contract at same rate.
Multiple lacing pattern holds the drum head securely in place to prevent slippage from ever happening.
Keith builds each frame individually in his shop. The Drum People DO NOT use
pre-fabricated drum hulls made by some unknown big company.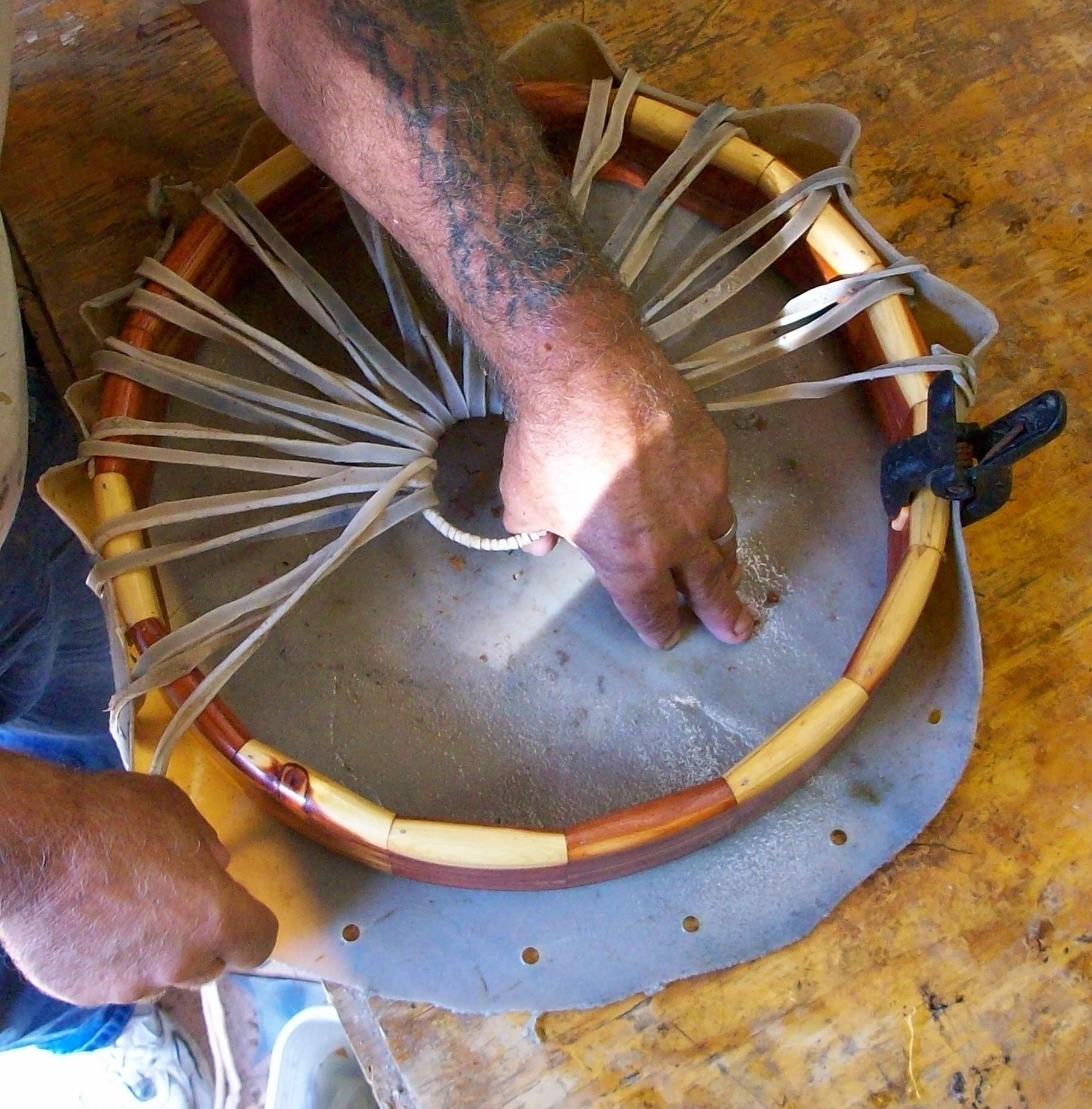 Keith cuts drum heads and laces
from organically tanned Bull Hide
Keith pulls the rawhide drum head tight so that head will never slip.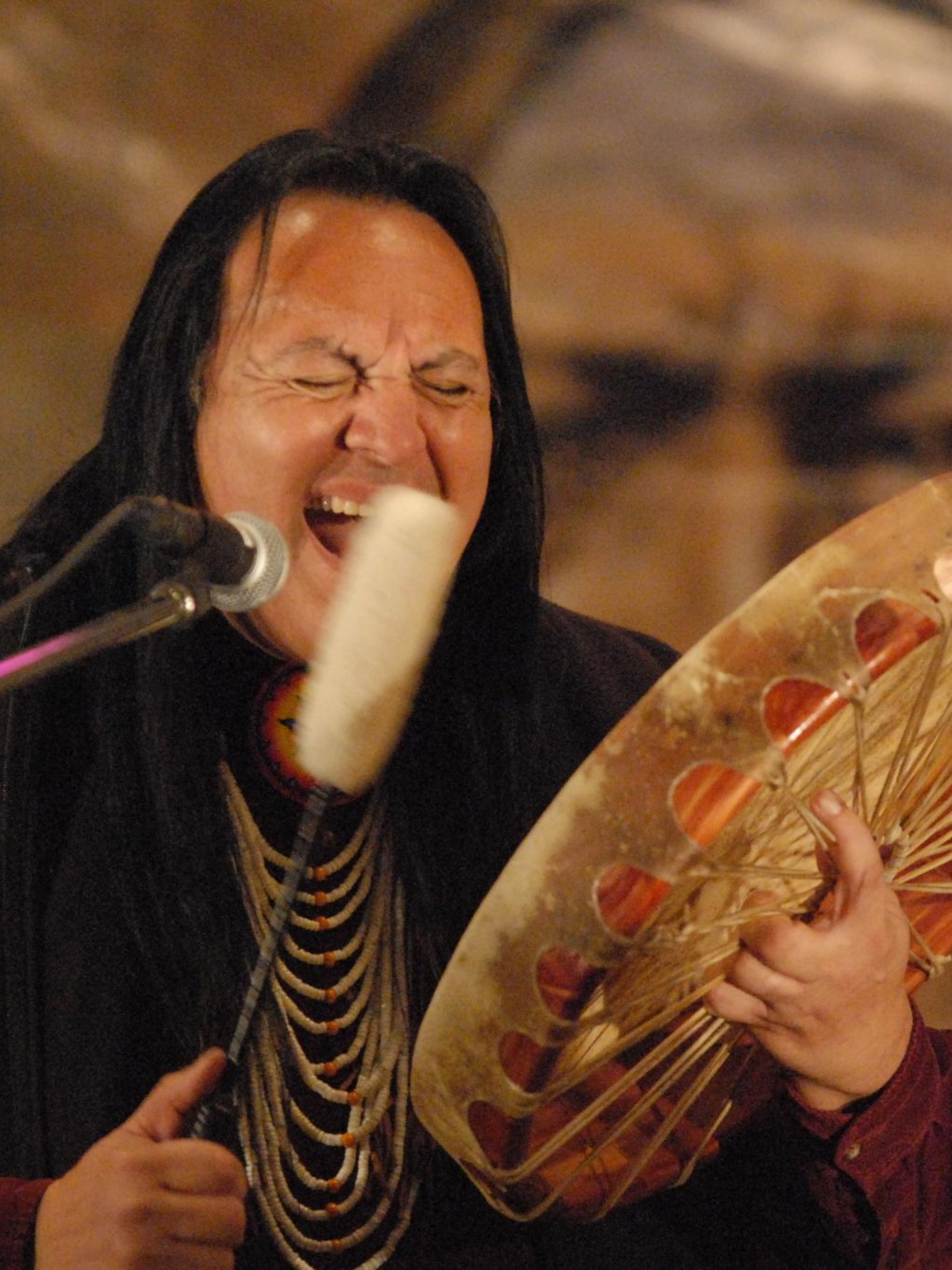 We are super proud and honored that Grammy Award Winner, Bill Miller, performed with a Little Badger Drum from The Drum People
HOW KEITH LITTLE BADGER MAKES YOUR HAND DRUM
All of our Authentic Native American Hand Drums are custom built.
WE ARE NOT A FACTORY!
Keith Little Badger is a Native American Third generation drum maker.
He cuts to wood from downed trees.
No new trees die.
Every Hand Drum Frame built by Keith
He cuts each piece of wood 6 times (2 Height, 2 Width and 2 to for the Angles).

Once assembled, he takes the time to sand the drum hulls to a smooth Sacred Circle.
The top and bottom edges are routed and sanded smooth
to prevent any tear or strain on the rawhide.
He puts 3 coats of finish on the wood to preserve it from humidity
From the entire Bull hide, he cuts a circle and uses his Grandfather's old hole press.
He hand cuts the laces from the same rawhide .
He soaks, laces and stretches the rawhide tight so it will not sing flat.
Each drum is air dried.
AND YOU HAVE YOUR CUSTOM NATIVE AMERICAN HAND DRUM!
The Drum People Share Native American Drums to Support Many Causes
Horses on White Horse Rescue Ranch Respond to Little Badger Hand Drum. Leather Bag custom made by Cheryl of The Drum People
Huntington, WV Governor urged citizens to take responsibility for the environment on an Earth Day observance. He said: "Helping the environment doesn't take a great deal of effort, but it takes participation from all of us". Tina C. plays Little Badger Hand Drum to support conservation and recycling.
Keith Little Badger has participated in Powwow Grand Entries with our Veterans and Played Native American Powwow Drums with many groups celebrating our Veterans
Kids Learn a little bit about Native Culture while Playing Powwow Drum in Vending Tent of The Drum People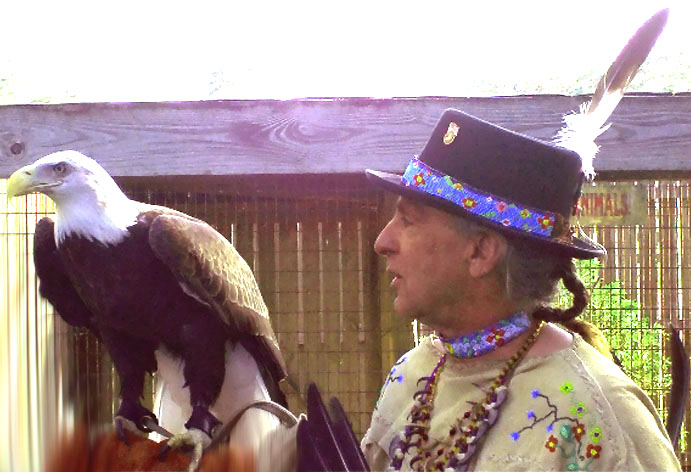 Keith Little Badger with Thunder, a Rescued American Bald Eagle. The Drum People Volunteered at Wild Life Rescue Center in Florida. Cheryl Helped Raise Money at Powwows selling Rawhide Bones. Cheryl says "Baby Owls can bite. Wear Gloves!"
The Drum People were always happy to lend their drums. Here Northern Star Singers from Canada borrow Little Badger Hand Drums to Sing at Native American Powwow in Vero Beach, Florida
Here's What Some of Our Customers say about The Drum People
Thank you SO much for this amazing drum! I have been looking for years, and nothing has felt right for me. When I found your site and talked with you, I knew it would be a good match for me. The drum is amazing, the sound quality perfect! The bag is so well made and beautiful. It is so apparent on every level, the passion and craftsmanship that goes into the creation and placement of this drums. I am thrilled! I got exactly what I was in search of! Spirit has truly provided in a wonderful way! Diane Sohn
HEARD MY DRUM and RECEIVED VERY SAME DRUM!
I am so happy with my new drum! The process was great too - I needed a drum quickly, but wanted to make sure it was the right one, since it will be used for sacred ritual... Cheryl played me a couple over the phone so I could hear their tones, which was so helpful. Then she shipped mine out to me so fast! And it's even better than I had imagined. I love the dark color of the hide, the quality of craftsmanship is excellent, even the drum beater is gorgeous. Beautiful sound, too. Also really appreciate how they tan the hides naturally, use only fallen trees for the frames, etc. So glad I found The Drum People! Kate Winter
Just received my 14" cedar drum – it looks, feels and sounds beautiful! Thank you, thank you, thank you for all the love and care that went into the making! I looked for years for this drum, and am so glad that I was patient in order to receive the right one. It definitely resonates with oceans of love and light! Claudia Scott

Cheryl, it was a pleasure to speak with and have your assistance and knowledge in selecting a drum. My wife loved it beyond explanation and I'm sure it will be loved and cherished in her spiritual journey. The craftsmanship of Little Badger is unmistakable in his construction of the drum. My humble Thanks and appreciation./John McMillan